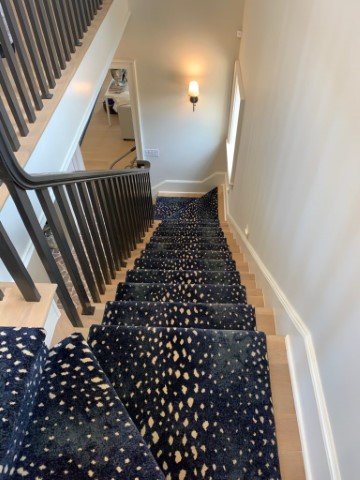 Installing a stair runner in your home is like adding a piece of art to your home.  Carpet stair runners will  transform an ordinary staircase into a beautiful entry way into your home.  Imagine coming home to an elegant stylish stair way every day.  You will be very happy about how your home looks with your new stair runner.  Guests will love it as much as you do.
A stair runner is carpet that doesn't cover the entire width of the stair. It is installed over hardwood or tiled stairs. Runners come in all colors and patterns and they are cut to the width needed for your stairs.
Stair runners reduce noise made by people going up and down the stairs and protect the treads and risers from wear.  They are a safety feature as stairs can be very slippery and the carpet provides a safe place to walk on the stairs.  Plus, the carpet is much more comfortable than hardwood.and e
Stair Runner Width
How wide should the carpet runner be? The answer to this will depend on the width of your stairs.
For stairs that are  3 feet wide, a 27″ runner width is a good size.  This is a good coverage so that you are not walking on a narrow strip of carpet, and is not too wide to overwhelm the stairs.
For wider stairs 4 to 5 feet, a 33″ runner is a good size, as it will leave a good amount of floor showing on either side of the stairs.
If you have a custom staircase that falls outside of the standard sizes then it can be tailored for appropriate scale.
Type of Pattern
Patterned runners are gorgeous, and come in all colors and designs. Abstracts or floral designs can be a good choice of pattern for stairs. If you have a winding staircase some patterns may not look as good as others. As the experts at Coventry if the pattern you like will work on your stairs.
Pattern Size
A small pattern size works well on a stair runner. Larger patterns can be lost and look uneven as the carpet bends over individual stairs. Smaller patterns showcase the design of each tread and riser.
Wool or synthetic fiber?
A stair runner is typically more decorative than standard carpet and is  woven for stair use. Stair runners are  woven using wool or synthetic pile fibers.  The fiber comes in a variety of styles and prices.
Either fiber works well and can be said to be better than the other in different ways.  With a runner, you don't want to go too light, light-colored carpeting shows dirt and scuffs.  Our experts at Coventry will provide our customers with all of the information necessary regarding the differences and help you make the right choice for your home.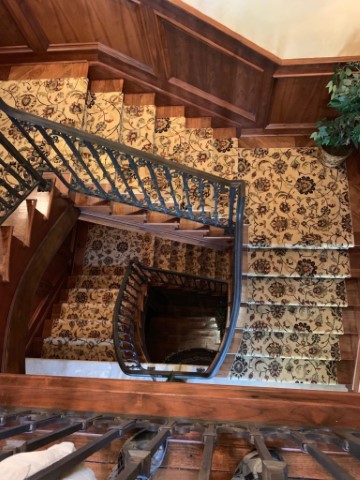 Stair runner installation:
They are usually installed over a dense carpet pad with small hidden staples. This keeps the carpeting from moving.  Having a properly installed stair runner is critical for it  to perform well and last for a long time.  Incorrect installation can result in a safety risk and reduce the life of the runner.  At Coventry we deal with all types of staircases and we have a lifetime installation guarantee.
Maintaining your stair runner:
Vacuuming  on a regular basis.
Clean or remove shoes when entering the home.
Keep the floors by the stairs clean.
Professional carpet cleaner yearly.
Coventry Flooring provides a lifetime installation guarantee on all of our work!