At Coventry Carpets, we have installed 1000's of yards of commercial carpet throughout Colorado.
We are experts at helping you choose the best carpet for your facility and location. We even come out and inspect where you will be installing the carpeting with our mobile showroom so you can see many commercial carpet options and we can give you a solid estimate on the cost.
Listed below are places we have installed Commercial Carpet.
Steamboat Grand Hotel
Brown Palace Hotel
The Glass House
Sonnenalp Hotel Vail
Regis university
Colorado Christian University
Arby's
Julian hotel Boulder
Union station
Park meadows mall
Paramount Cafe
Southridge Recreation Center
The Vintage Hotel Granby Ranch
Coca Cola Headquarters Denver
King Soopers / Kroger Headquarters
Commercial Carpets are a timeless affordable option for indoor office spaces. When you are installing carpeting in a business you need durability. Commercial carpet is designed specifically for the traffic that businesses get. Commercial carpet comes in a variety of choices in style, fiber, and color. Carpeting can add personality to the work environment. In hotels, it can provide directional cues. In healthcare carpet
can be calming. It can provide sound dampening in a cubicle setting or a computer lab.
Commercial carpet should be easy to maintain. Most are made flat and dense so they vacuum easily and be easy to clean. You have lots of options to choose from so you will want to consult with a professional once you have made the initial considerations.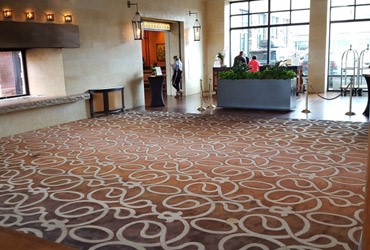 Commercial carpet typically comes in broadloom (large roll) which is 12ft wide. It is laid onto a carpet pad that sits on your floor substrate. It is the least expensive option. The main disadvantage to this option is if you have to repair the carpet because of damage.
Carpet tiles, also called carpet squares or modular carpet, come in pre-sized squares with their own integrated backing and base. They sit directly on your substrate. Your installer will lay individual tiles one at a time, with minimal cutting, only resizing certain pieces where necessary.
Carpet tile is more versatile as you can pull up individual pieces if they get damaged. It comes in a variety of sizes such as rectangular or square so you can create custom looks. The product is stronger overall than broadloom as it has a better backing and typically lasts longer because of the denser thicker backing that makes the product more stable. It is great for highly trafficked areas. It is easier to install
in offices that have cubicles as you can work around areas more easily. Your better nylons are going to be stronger than polypropylene. The heavier ounce weight is going to be more expensive but last longer.
To match your carpeting to the proper end-use, you should consider:
Carpet construction and durability
Color Selection
Quality and performance requirements
Insulation and sound absorption
Amount of cushion
Cost
Maintenance
Fire ratings
Define the specific requirements of the facility.
Type of facility and the area receiving carpet.
How long you would like the carpet to last.
Whether access to subfloor is needed.
Whether there is modular furniture in the space.
On an average day, will there be spills or dirt tracked into the building?
What about moisture? If so how much as this will definitely affect a lot of things?
Is there exposure to chemicals or sun?
What type of traffic and how much? Wheelchairs? Supply carts?
Frequently asked questions:
What's up with this carpet tile I am seeing everywhere? Carpet tiles are a perfect example of the fun you
can create and the performance you will get if you decide to go in this direction. The options and
designs are limitless, It will set you apart from your competition, and your investment will last for years
to come.
Are all commercial carpets created equally? Your better nylons are going to be stronger than
polypropylene. The heavier ounce weight is going to be more expensive
What type of yarn is best for traffic areas and staining? Nylon in the form of carpet tile is the best.
What do I do with all this furniture? It depends on what needs to be done. We do not move computers
but we can move furniture.
Won't carpet installation effect work productivity? We can do weekends and nights.
I want to do something really cool with a design, can you help? There are numerous design options. We
specialize in helping our clients decide the best option for their situation
Call Coventry Carpets, we have the design and installation know how to turn your commercial
property into a space you will be proud of AGAIN!